Ik ben een grote fan van Transformers Shattered Glass en ik had een wens. Zoveel mogelijk verhalen creëren.
Ik kan schrijven, maar tekenen en inkleuren zijn niet mijn sterkste punten. Maar er zijn genoeg mensen die dat wel kunnen.
De Shattered Glass Comics spelen zich af in een ander universum als die van Fun Publications.

These are the stories: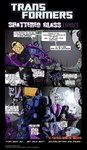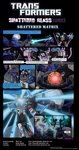 I Will be a God
is the very first Shattered Glass story I wrote.
The story is about the captured Megatron by the evil Optimus Prime. Optimus needed him to find the Key of Vector Sigma, so he can open a special gate. This gate brings you to other dimensions. It's also a little tribute to Stargate SG1.
I love the Shattered Glass Universe and I really want to expend that with more stories!! The wonderful art is done by Philip Knott and the perfect colour is done by Sam Palmer.
The sequel of "I will be a God" is called
Shattered Matrix
.
The wonderful art is done by Simon Reeves and the perfect colour is done by Caroline Richard
Note: The story is not cannon based. The third character is Galvatron, the brother of Megatron (Does not appear in the SG continuity).